Chairman of Cubana Group, Chief (Dr) Obinna Iyiegbu, popularly known as Obi Cubana has instituted academic prizes for best-graduating students in various faculties of the University of Nigeria.
Obi Cubana announced the prizes in his commencement speech at the 50th convocation ceremony of the University of Nigeria Nsukka held on Friday, 24th March 2023.
The successful businessman, who graduated from the Department of Political Science, UNN in 1998 (25 years ago), promised to give one million naira to the best graduating student from Political Science Department, and to the best-graduating students the department will be producing.
He also promised to give N500,000 to each of the best-graduating students from the 17 faculties of UNN, and the future best-graduating students the faculties will produce.
Apart from the academic rewards, he also stated that the Obi Cubana Group will set up the "Obi Cubana entertainment Excellent Center" in UNN where students can be doing part-time jobs to support themselves financially.
Obi Cubana, who expressed his excitement to have been invited to the event, while delivering his speech titled "success is a process", charged the graduands to confront their future with courage and determination.
"I feel very honoured to be invited to this 50th convocation. I am very happy to be here. A long time ago in 1998 to be precise, I sat in this same hall like you for my convocation. Recently, I have been using many platforms, especially social media to inspire and motivate young Nigerians across the world. But today, I have come in person to challenge and motivate you.
"As you leave the four walls of this great institution to begin your life journey, I encourage you to confront your future with courage and determination just as the lions and lionesses you are."
Speaking on the secret of his success, Obi Cubana said he was faced with unemployment after graduation but what has sustained him is hard work, focus, determination, integrity and that special grace only God almighty can give.
"Today, I have come back to this convocation hall as homecoming, to share my story, so that, you can learn some lessons from my experience, and hopefully, get inspired and motivated to confront the future with greater confidence. The secret of my success is focus, integrity, hard work, and the special grace of God," Iyiegbu said.
Speaking earlier at the event, Vice Chancellor of the University, Prof Charles Arizechukwu Igwe, said that the character component of people's training in school is as important as the academic part.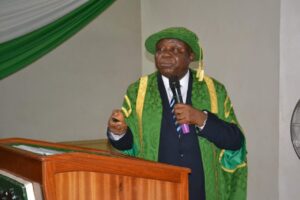 Addressing the graduands at Margret Ekpo Convocation Arena, UNN, Nsukka Campus, where the event took place, Prof Igwe, who regarded the 2019/2020 graduating set as the "Golden Generation of graduates" produced by the University, said it was his duty to remind them of what society expects of them.
The vice chancellor further told them that as graduates and alumni of UNN, they are expected to live up to certain standards in all they do, and pleaded with them not to allow the high rate of unemployment to diminish the value of their graduation.
"Dear graduands, in addition to congratulating you for your achievements, I have a duty to remind you of what society expects from you. Through today's achievements, you have joined the elite club of graduates and alumni of the University of Nigeria Nsukka. May I remind you that the character component of your training is just as important as the academic component. This is why the degrees of the University are awarded in character and in learning.
"As graduates and alumni of this university, you would be expected to live up to certain standards in all you do. Our country is in dire need of truly educated men and women who can help us build a truly developed and civilized country.
"As you leave the university to face the real world, it is natural for you to be concerned about the prevailing socio-economic conditions in the country, especially the high rate of unemployment. But please do not allow this to diminish the value of your graduation. I am in a position to tell you that there are still opportunities for you all to excel in a big ceremony such as ours. As young and innovative people, who have received training on entrepreneurship, I also challenge you to go further and create businesses and job opportunities for yourselves and others," Prof Igwe stated.
The Vice Chancellor stressed that the institution decided to make the convocation special for the graduands by inviting Chief (Dr) Obinna Iyiegbu (Obi Cubana) to serve as the commencement speaker.
He went further to remind the graduands that their graduation does not mean end of their relationship with the institution, but the beginning of another phase of relation just like Obi Cubana.
"We have also made your convocation special by inviting a distinguished alumnus of the University of Nigeria, Chief (Dr) Obi Cubana) to serve as the commencement speaker. I know you have a strong admiration for him, I am delighted he accepted to attend your convocation."
"As I conclude, may I request that your graduation does not signify the end of your relationship with the University of Nigeria – your Alma mater. Instead, it should be the beginning of another phase of the relationship- one between proud Alumni and their Alma mater. You should be a good alumnus just like Obi Cubana has demonstrated by being here today. It is my hope that sooner or later, you will be in a position to give back to the institution that gives you a head start in life. I may not be the Vice chancellor then, but the University of Nigeria will always be your university.
The University boss while congratulating the graduands, mentioned that he will always remember the resilience of the 2019/2020 set whose graduation was delayed by the COVID-19 pandemic and convocation delayed by the industrial actions of the Academic Staff Union of Universities (ASUU).