AS Nigeria joined other   countries recently to mark the 2017 World Egg Day, the Poultry Association of Nigeria, PAN, has disclosed that eggs could prevent breast cancer among women.
This was stated by the National President, PAN, Mr. Onallo Akpa, while giving his address of welcome at a world press conference as part of activities to mark the day with theme, 'An Egg A Day for The Nigerian Child, Crack an Egg and Help Crack World Hunger', where he said the association has made impact in growing the economy by contributing 25 per cent to the Agricultural Gross Domestic Product, AGDP, of the economy.
According to Akpa, egg plays a vital role in feeding people around the world as it has excellent, affordable source of high protein with the potential to feed the world, as it contains selenium, Vitamin A and E, Folate, Riboflavin, Choline and Lutein.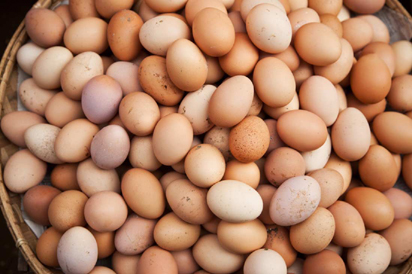 He said: "There is so much to celebrate as eggs have the potential to feed the world with the greatest secret as 'nature's vitamins pills'. Scientific reports confirm that among protein foods, egg contains the richest mix of essential amino acids crucial for children, adolescents and young adults for proper growth. Egg prevents ageing of the skin and helps in increasing the red blood cell count in infants as well as in their brain development.
Potential on egg production
"Eggs may prevent breast cancer, as women who consume at least six eggs per week reduce their risk of breast cancer by 44 per cent according to scientific study."
He also stated that there was enormous revenue generation potential on egg production capable of boost the economy and wealth creation if there will be commitment to it by the government and the people, which priority should be given to the development of the industry, taking advantage of the Federal government's Home Grown School Feeding Programme, and others.
"The economy of the egg in Nigeria is enormous as an egg a day for 50 per cent of the Nigerian population will produce a daily economic value of N1.7 billion.
"A deliberate policy of an egg a day will create great impact assessment of school enrichment, cognitive development and mental development", he added.
Also speaking, a Nutritionist from Maitama District Hospital, Dr. Sarah Abagai, said that inclusion of egg in a daily meal plan can go a long way to solving the malnutrition problems in Nigeria, which she revealed that over 11 million children suffer stunted growth in Nigeria, due to lack of adequate nutrition.
Abagai further stated that one out of three children in the country was malnourished, which could be traced to poor nutrition by pregnant women before delivery and lactation women.
"Over 11 million Nigerian children are stunted in growth, while one out of every three children are malnourished, due to lack of adequate nutrition. We support the use of egg as bridge because it contains a lot of vitamins and minerals", she said.