…As Lagos state governor, Akinwunmi Ambode visits scene
…At least 25 bodies rescued so far
…..Rescue operations ongoing
….Some pupils reported dead
…Watch video of rescue below
At least 22 pupils have been rescued from the three-storey building that collapsed at Ita Faji, at Lagos Island on Wednesday. Over 100 pupils have been reported trapped in the collapsed building.
Faji building collapse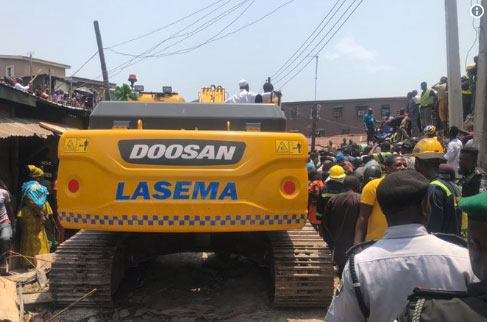 The floor of the building houses the said primary school where pupils were in class when the tragedy struck.
It suddenly collapsed around 10am on Wednesday, trapping many of the pupils.
Meanwhile, a combined team of rescue operations from Lagos state Rapid Response Squad, Lagos State Emergency Management Agency, the fire service and concerned citizens is currently ongoing.
Also, the Lagos state Governor, Akinwunmi Ambode has arrived the scene of the collapsed building. According to the Governor, a briefing he got from the head of the Lagos State Emergency Management Agency, that 25 bodies have been rescued so far. 
Just In: A three storey building collapsed at Ita Faji area of Lagos island. The building housed a children's school of a about 400 pupils,shops and flats of residence.
.
.
Casualties figures not confirmed

God take control pic.twitter.com/wVhXhreU7K

— Afolabi Idris (@hadhratidris) 13 March 2019
Keep checking this story for updates…..